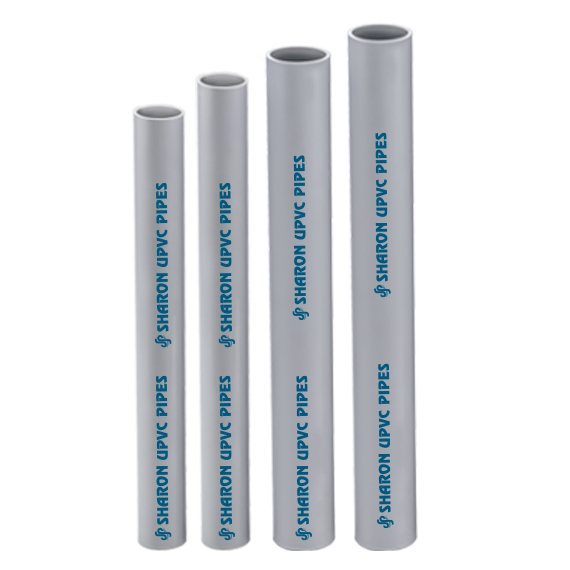 20 , 25 , 32 , 40 , 50 MM SIZES
USES
Drinking water distribution system
Soil and waste management system
Sewerage and underground drainage
Rain water Harvesting
Cable Protection
Industrial Piping applications
Suitable for buried non potable application such as irrigation and sewer pumping etc
FROM TABLE 2 Dimensions of UPVC PLAIN END PLUMBING PIPE


(CLAUSE 7.1.3 )
(All dimensions in millimeters)
Nominal out side diamter
Mean outside diameter
Outside diameter at any point
Wall thickness
Min
MAX
MIN
MAX
AVG MAX
MIN
MAX
20
20
20.3
19.5
20.5
3.3
2.8
3.3
25
25
25.3
24.5
25.5
3.4
2.9
3.4
32
32
32.3
31.5
32.5
3.9
3.4
3.9
40
40
40.3
39.3
46.5
4.2
3.6
4.2
50
50
50.3
49.4
50.6
4.3
3.7
4.3
TESTING METHODS

Sharon pipes are available in Indian Standard Specifications for potable water. Different test conducted in our most modern Lab on Sharon pipes as per IS 4985 and conformities are as follows:

Serial No.
Name of Test
Conformity
1
VISUAL APPERANCE
Colour of the pipes shall be light gray. Both inner and outer surfaces shall be smooth to facilitate free flow of effluent.
2
OPACITY
Does not transmit visible light falling on the pipe more than that specified in the standard. This test is to check the usage of inferior as well as cheap materials for processing.
3
Effect on water
The pipes shall not have any detrimental effect on the composition of water flowing through them, so that substances like lead, Dialkyl tin C4,cadmium.mrcury and other toxic substance shall be within the specified limit.
4
REVERSION TEST
The alteration in length shall be within the specified limit when test by the immersion method. The test is to ensure that the product are being produced with suitable dies and moulds , this test evaluate the suitability of the dies and moulds used for process.
5
VICATE SOFTENING TEMPERATURE TEST
When tested b y the method prescribed in standards the vicat softening temperature of the sample shall not be less than the specified.
6
SULPHATED ASH CONTENT TEST
The ash content after calcinations with sulphuric acid treatment shall be below the prescribed value.
7
DENSITY
When determined in accordance with IS standard the density of the pipe shall be between 1.4 and 1.46 gms/cm3
8
INTERNAL HYDROSTATIC PRESSURE
The pipe shall not fail during the prescribed test duration. This test ensures the product can bear with the working pressure as specified in classification.
9
RESISITENCE TO EXTERNAL BLOW AT 00C
The percentage of Impact rate shall be within the limit. This test ensures the impact strength of the product.